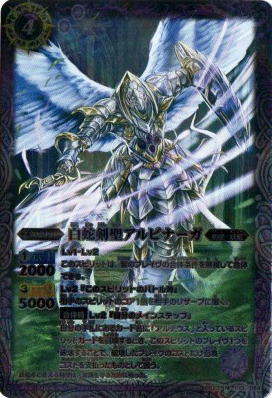 [LV1][LV2] This Spirit can brave fuse with any Purple Brave, ignoring the brave condition.

[LV2] (When Battle) Move 1 core from any opposing Spirit to their reserve.

[When Braved] [LV2] (Your Main Step) When you summon a Spirit card from your hand with "Aldius" in it's card name, by destroying 1 Brave on this Spirit, treat as if an amount of cores equal to the cost of the Brave destroyed, has been paid from your reserve for that summon.
what do you thinnk about Albinaga? is it not too overpowered when it just neglects any restriction of braves?
nobody has an opinion on this card?? come on please, talk with me:-)
If you want some kind of opinion on this card, I don't see this as broken based on the translation I came up with. For one thing, the effects are limited to only Amethyst Braves, which helps in balancing out things (does not gain free access to more powerful Braves of other Gem Colors), and even then said Amethyst Brave would most likely be sacrificed to make summoning "Ardeus"-named Spirits that much easier.


Kamen Rider OOO: part of a nutritious breakfast. "It's infinitely delicious!"



Posts

: 482


Join date

: 2011-07-08


Age

: 33


Location

: East St. Louis, IL



thank you for the opinion posting, i just thought nobody cares...
but i can not agree totally (after reading your argument), because from your text it might appeat that purple is a weak group or purple braves are bad. that is not the case;-)

---
Permissions in this forum:
You
cannot
reply to topics in this forum